Vivienne Tam Presents Yoga Installation at Fashion Week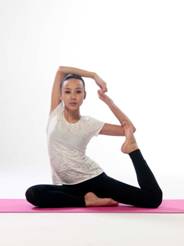 With the upcoming Mercedes-Benz Fashion Week for Spring 2012 in September, there is much to look forward to—but out of the numerous shows, what caught our attention was that designer Vivienne Tam will be launching her first ever yoga collection. Given the growing popularity of yoga (love Yoga to the People) it'll be interesting to see Tam's take on lifestyle fashion, especially since she will presenting it in a form of a "Live Sculpture Garden," in which her press release states, "Twenty leading female yogis dressed head to toe in Vivienne Tam, will perform choreographed yoga lead by International Yoga Experts, Rodney Yee and Colleen Saidman Yee" at Lincoln Center.
Yoga meets fashion—we love when practicality, health and style come together. This will be something we won't want to miss at fashion week.
Photo courtesy of Vivienne Tam
Follow Mochi Magazine on Twitter and become our fans on Facebook.